What Is The Most Comfortable Outdoor Chair?
What Is The Most Comfortable Outdoor Chair?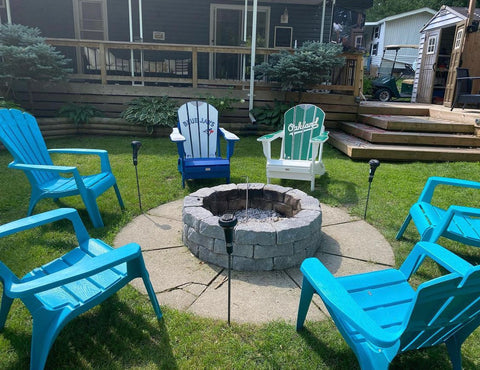 Relaxing outdoors, whether you're enjoying peace in your own backyard, watching kids play sports, or enjoying downtime with family and friends on vacation, is always much better when sitting in a comfortable chair. We've all experienced the struggle of a flimsy outdoor chair that constantly threatens to fold, one that's too hard, or one that always feels one wiggle away from collapsing entirely.
What is the most comfortable outdoor chair? The team at My Custom Sports Chair has prepared some tips to take care of the guesswork on your search for the perfect lounge chair:. 
What to Consider When Purchasing Outdoor Chairs
Now that you know how to find the right patio chairs perfect for different outdoor events, you can start looking for high-quality types of chairs.
Material

: The best patio chairs can withstand any type of weather, from rain to hot summer sun. Look for weatherproof and durable materials, such as wicker, teak, aluminum, or steel that will not crack or deteriorate over time that will not crack or deteriorate over time. If you choose wood as a material for your chair, look for wood that has been treated as weatherproof with high-quality paint for outdoor furnishing. High-quality resin is another material ideal for all types of weather, from heavy rain to hot summer sun, as it doesn't warp or crack like wood, nor rust or deteriorate like metal.

Chair cushion

 

and comfort level

: Make sure the chair is comfortable to sit in for a long time. Sit in it, move around, shift your weight, and cross your legs. The construction of the chair seat is a big consideration, too - for example, the long smooth planks of an Adirondack-style chair won't press into the backs of the thighs when sitting, like some kinds of metal chairs can. Check any wood chairs for the potential of splinters, or consider a high-quality resin material crafted to resemble wood instead.

Weight capacity

: Check how much weight the chair seat will hold before buying and the durability of the material to hold a heavier weight. The adult chairs from My Custom Sports Chairs are rated for weight up to 440 pounds, higher than many other brands of outdoor seating.

Chair type

: Do you need something stationary for home use, or are you seeking an easily- portable, lightweight chair? When shopping for lightweight, portable chairs, test them before purchasing to ensure that you can easily set them up and that they are stable on different types of surfaces, including grass or dirt. Make sure that you can easily carry the chair, too.

Chair style

: you can choose something more modern, made of metal, or a classic Adirondack style that complements any outside décor scheme. My Custom Sports Chairs offers 

custom outdoor chairs

 that add a modern flair to the classic Adirondack style, customized with your favourite team's colours.

Price and value

: Make sure that you aren't sacrificing comfort for the price. If the chair is uncomfortable to sit in, then the price won't make much of a difference. Many cheaper chairs are made of lower-grade materials that may quickly break down over time or aren't properly treated to be used outside for more than a couple of years before the ravages of weather ruin them. Replacing a cheap outdoor furniture set every year can quickly add up, but high-quality outdoor furnishings are an investment in your home.

Reviews

: What are other buyers saying about these chairs? Are they using the chair the way you would? Looking at reviews of actual users can help you determine the right style of chair, including what size or sizes to consider, and even some tips on caring for or storing the chairs.
Create a Comfortable Outdoor Space With Custom Chairs

Outdoor chairs need to possess a few key characteristics in order to be successful. They have to be comfortable, durable, and look good.

My Custom Sports Chair checks all of those boxes and more. Not only are their chairs comfortable, durable and fold up for easy storage, but they are also 100% Canadian made and manufactured. And if that wasn't enough, they can also be customized for your favorite team. So if you're looking for the perfect patio chair, you can't go wrong with My Custom Sports Chair.

'