Best Gifts for Sports Fans
Best Gifts for Sports Fans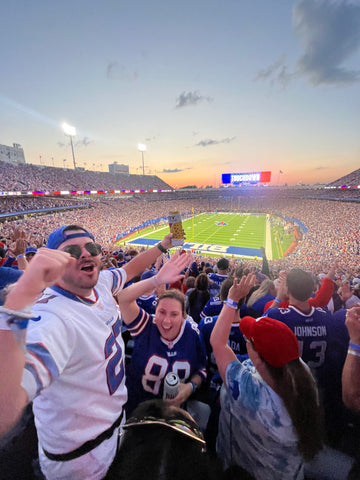 Gift Ideas That Will Score Points With the Sports Fan in Your Life
Trying to think of the perfect gift for the sports fan in your life can be tough. If you're not a sports fan yourself, it can be difficult to know what would make the perfect present. You want to find something that shows you support their commitment to their favorite team, however, season tickets aren't in the budget for most people, so we've prepared this guide to sports-themed gifts and sports accessories to help you find homerun gifts for sports fans. 
Best Gifts for Diehard Supporters
Some people live and die with the ups and downs of their favorite teams. They support their team through thick and thin, always remaining loyal no matter what the outcome. This tendency cuts across sports. For big-time hockey fans, baseball fans, football fans, soccer fans and basketball fans, their support is (almost always) behind their favorite team. 
If this sounds like the sports fan in your life, consider sports gifts with their team's favorite logo. These days, there are a wide variety of officially licensed sports items that you can buy to help someone show their favorite team's logo and colours. You can opt for something small and functional, like a bottle opener, something more stylish, like authentic jerseys, or a major statement piece for their fan cave, like a custom sports chair. 
Do They Play Sports or Watch Sports?
If you're stuck trying to choose the perfect gift for sports lovers, a good place to start is their level of involvement in the sport. Do they primarily watch sports, or do they also play? 
If they spend more time playing than watching, your best bet might be to go with something more functional. Golfers, for example, are always in need of golf balls, even if you aren't sure what kind of golf club they want or need. Similarly, tennis players can never have too many balls. For those who mainly watch sporting events, however, a piece of memorabilia or team apparel from their favorite team is much more likely to make a great gift. 
Home Decor for an Epic Fan Cave
There are sports gifts, and then there are sports gifts for the ultimate fan. If someone in your life loves to show their team pride in a big way, custom home decor is the way to go. 
Imagine them walking into their very own fan cave, complete with their team's logo on the walls and their colors everywhere. It would be a great spot to watch the game or entertain friends who are also fans. Whether you customize an entire room with team colours, custom sports chairs and side table, or just add a few touches here and there, custom home decor is the perfect way to show team spirit. Go big and go custom for an epic fan cave that will be the envy of all their friends.
Sports Memorabilia to Highlight Iconic Moments
Lots of sports fans love the history of their favorite sport or team, almost as much as tuning in on game day, which is why sports memorabilia that celebrates historic moments makes for such great gifts. Every basketball fan can picture Michael Jordan hitting a game winning shot. For hockey fans, that moment might be Sidney Crosby scoring Canada's golden goal. For football fans, it might be one of Tom Brady's many on-field accomplishments, like winning his unfathomable seventh Super Bowl. 
Whether you're giving a gift for a birthday, Christmas, or simply as a gesture of appreciation, it's always nice to give something that shows you took the time to thoughtfully choose a present.Not only does it show that you are thinking of the person you are giving the gift to, but it also shows that you understand their interests.  Sports memorabilia is a great option for gifts, especially for those who are fans of a particular team or athletes. Memorabilia can include items like jerseys, balls, and cards signed by favorite players.
When it comes to gifts, there are a few things that are sure to impress. Sure, you can always opt for the latest gadget or designer label, but if you're looking to really wow your loved ones, you'll need to think outside the box. One option is to break the bank and go for a premium gift, like a piece of signed memorabilia. Unfortunately, these kinds of things can be hard to come by. But if you're willing to put in the effort, it's sure to be a hit. Another option is to go for something unique and personalized, like custom sports furniture.
When in Doubt, Get a Gift Card!

What do you buy for the sports fan who has everything? The sports fan who has everything can be a difficult person to shop for. They probably have all the gear they need and are up-to-date on the latest news and developments in their favorite sport. Gift cards for My Custom Sports Chair are a great option for these types of people. 

When it comes to finding the perfect gift for the sports fan in your life, My Custom Sports Chair has you covered. With an extensive selection of officially licensed, customizable furniture and accessories, they offer something for everyone. So whether you're looking for a new chair for tailgating or a gift for a birthday or holiday, My Custom Sports Chair has what you're looking for. And with customization options like team logos and player names, you can create a one-of-a-kind gift that the recipient is sure to love. So next time you're stumped on what to get the sports fan in your life, remember My Custom Sports Chair.

'