Sports Man Cave Ideas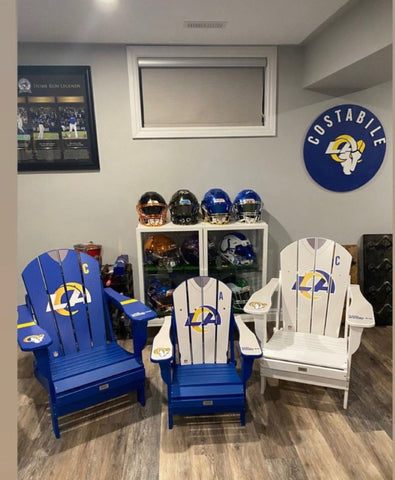 The man cave. That peaceful palace of entertainment, that Shangri-la for sports, that raucous region of the house where the outside world dissipates, leaving nothing but the game. It's every sports fan's dream. 
The big screen TV, the bar, a comfy custom sports team chair, snacks, memorabilia and the perfect lighting. There are just so many options, so many places you can take your sanctuary for sports. But honestly, the amount of possibilities can be overwhelming. Without a proper plan, the space can come out looking disjointed and cluttered. 
That's why, in this post, we will be looking at some interesting ideas and themes to help you get your wheels turning so that you can maximize your available space and build an outstanding man cave. 
Location  
Choosing the right location is one of the most important decisions when you're trying to build a killer man cave. It's the canvas you're going to be painting on. The clay you're going to sculpt into the ultimate game day spot.
Some of the most common locations for a man are the basement, a garage, a shed, and a spare room or attic. Each of these areas have their pros and cons and require different levels of investment. 
For example, while a man cave shed does offer a great deal of privacy, it is usually less accessible and requires a greater investment for hooking up utilities and weather proofing. A basement or garage man cave is a popular choice because it already has utility connections and is generally of a nice size; however, these locations may not offer good natural light and might require more intense cleaning to get rid of smells and oil stains. Spare rooms and attics are probably the easiest to convert into man caves, but what you gain in convenience you sacrifice in size and privacy.
Once you've chosen a location, it's time for the fun part, designing and decorating.  
Sports-Themed Man Cave Ideas
Designing your man cave according to a particular theme will really give it the cohesion that makes people say "wow" when they walk in. It's visually appealing, it's exciting, and it lets everyone know what time it is. A well-thought-out theme adds character and makes the room feel put together. Plus, having a theme in mind can help guide your design decisions and make choosing what you want to have in your own man cave a lot easier. Here are some cool theme ideas that will help you design the ultimate man cave. 
Man Cave Bar
A sports bar-themed man cave is a great idea for social sports fans who like to have people over to watch the big game. Sports, plus friends and drinks, is a simple recipe for a good time. So besides the large screen TV, the couch and the refrigerator, which are essential to any good man cave, there are some other pieces of furniture that can help round out your sports bar decor. 
Having a bar table or two spread out in your space, coupled with the right amount of bar stools can make your space feel inviting and dynamic, particularly when you have people over. When the big game is in full swing, not everyone wants to sink away into the couch. Movable pieces of furniture like bar stools allow the room to take the shape it needs for the occasion. This may seem like a small detail, but it goes a long way when the room gets buzzing. It ensures everyone can find themselves a perfect place to enjoy the game from. 
Hockey-Themed Man Cave
A hockey-themed man cave is a fun and exciting idea where you can gather and celebrate your favourite players and teams. 
To really nail a hockey-themed man cave, you need the right items. Consider things like team pennants, posters, and signed jerseys. And for that extra 'wow factor,' you'll want to add a custom NHL jersey chair to the mix. Pick between home and away jersey designs and seamlessly add some quality man cave furniture that fits with the rest of your sports decor. Pair these with an accompanying NHL end table, so that your chips and beer are never out of arm's reach.   
Football-Themed Man Cave
If you're a die hard football fan, you're in luck, because between the NFL, the CFL, and college football, there are so many different pieces of sports memorabilia you can incorporate. From limited edition jerseys to signed helmets and footballs that you enshrine on different stands and shelves, you can really let your imagination take over.
You could even separate your football man cave into sections that transition between the team colours of your NFL, CFL and NCAA teams. 
Check out this page for more interesting NFL man cave ideas. 
Baseball-Themed Man Cave
For a home run baseball man cave, start by adorning the walls with baseball bats and big, colorful posters featuring your favourite players. Then add a baseball diamond rug to remind visitors where it all starts – the baseball diamond. 
You can also really show off your baseball spirit with jersey chairs that feature your name and number on the back. Throw on a urethane foam chair cushion to really have the best seat in the house. Make your friends jealous with signed baseballs and gloves displayed in glass cases. Then round out the room with playful baseball-themed accessories like baseball cap snack bowls.
It's What You Make It

A sports man cave is a reflection of your character, your personality and your love for the game. It's your temple for touchdowns, home runs, goals and buzzer beaters, and it should be treated as such. 

With the right space, theme and memorabilia like sports chairs, jerseys, and carpets, you can truly build a place where sports fans like yourself come to share in the joy of victory and the agony of defeat. It's what every sports fan wants. A place where memories are made. We hope this post has given you some sports-themed man cave ideas you can build on so that you can create your legendary man cave.

'